Vacancy Information: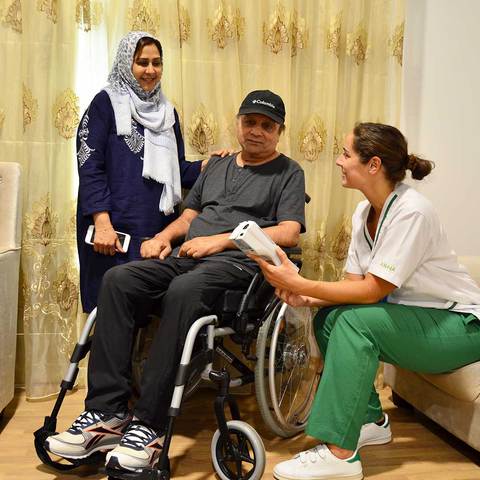 Community nursing posts for female Filipino and Indian nurses PHP 56,800 or INR 74,500 per month tax-free ++

What is community nursing/home health care?
You may hear this type of post being referred to as either community nursing or home health care nursing. Whilst this has been an established form of nursing in countries like the UK, Canada and Australia for many years, it is a rapidly growing speciality in the Middle East.
Home health care is a unique opportunity for nurses. It is intended for patients who are well enough to be at home but require skilled nursing personnel to administer care. This is a valuable tool as it provides safe, effective and convenient care to patients and enables them to be as self-sufficient as possible whilst recovering from illness or managing an ongoing condition.
As a home health care nurse, you will treat a wide variety of patient groups. You will work alone in the field with support from a centralised multidisciplinary team. Your patients may include:
o Patients recovering from an illness or injury who have been deemed well enough to be discharged from hospital
o Patients suffering from chronic illness
o Patients living with a disability

You will provide a range of skilled services to your patients, including but not limited to:
o Wound care
o Administering Medication
o Continuous managing of chronic conditions
o Creating and continually assessing care plans
o Monitoring and assessing patient condition
o Educating both the patient and family on treatment needs
o Maintaining documentation and communicating with the multidisciplinary team
What does a standard day involve?
Home health care nurses must be able to work autonomously, as for the most part, you will work alone (note that in positions in the Middle East, you will have a driver with you who will also function as your translator).
You will have your own patient caseload and be driven to each patient by your driver, following a team meeting in the office each morning. Throughout the day, you will manage documentation using an iPad. At the end of the day, you will be returned to the office where you will finalise all necessary documentation and communicate with the team as required.
Why choose a career in home health care nursing?
As a home health care nurse, you will be in a uniquely advantageous position of being able to see your patient's living conditions, allowing you to make informed assessments of the level of care required.
If you are looking for a career that allows you a high degree of autonomy and a diverse caseload, home health care nursing could be just what you're looking for.
Are you eligible to apply for this post?
We currently seeking to hire Filipino and Indian nurses. For this vacancy, no previous home health care nursing experience is required so this is a fantastic time to apply.
You should, however, have two years of experience in an acute medical/surgical or critical care setting.
Don't miss out - contact us today to apply!

Community nursing posts for female Filipino and Indian nurses

Vacancies: